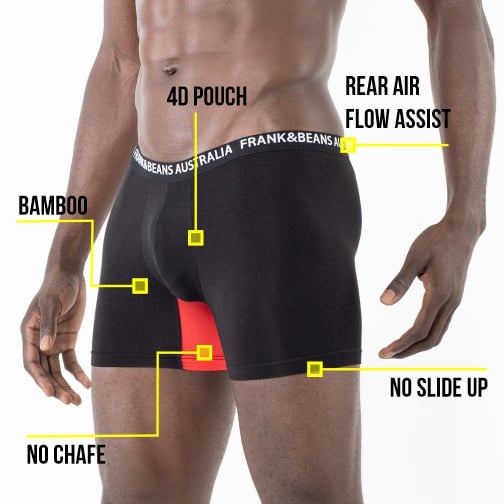 Just like women, men want to feel comfortable and secure in the underwear they wear. The underwear market today offers a lot of different options for men, each tailored according to their needs, comfortability, and taste. To achieve the best support and feel while wearing the underwear, one of the most important factors is the fabric.
As you know, the quality of the garment that you are wearing is crucial to the feeling and the comfortability that you feel during day and night. That is why we at Frank & Beans specialize in offering the most comfortable, unique, and varied underwear offer for both men and women.
A special and important part of men's offer is the Bamboo underwear selection. What comes as the most distinctive characteristic of the Bamboo Underwear collection is the special airflow vents that are designed for a more comfortable moving, lightweight feeling of the skin without compromising the needed support. This option in the design is present in both models. Additionally, the Bamboo Boxer trunks prevent sweat, another very important issue that will provide a dry feeling wherever and whenever it is needed.
The bamboo fabric, coming as the main fabric in the Bamboo underwear selection is an excellent choice for a garment that is directly connected to hygiene, comfortability, and daily use. The design of the trunks is fitted, with a special nod to next-to-skin experience and feeling. When put on, the trunks fit perfectly and adapt to the body, without squeezing or feeling too tight, which can be quite uncomfortable. The softness and the breathability of the fabric will instantly make you see the difference compared to the regular underwear pieces, which might only look good, but do not provide the needed qualities as daily wear. The waistband, as well as the 4D-pouch, are an innovation that perfectly combines the new technologies with the need for unique underwear.